Sloan Curtis Automotive Group has been helping people with Diminished Value claims since 2012.

You can count on us to use our knowledge of the auto industry and Insurance companies to help you get the Diminished Value owed to you.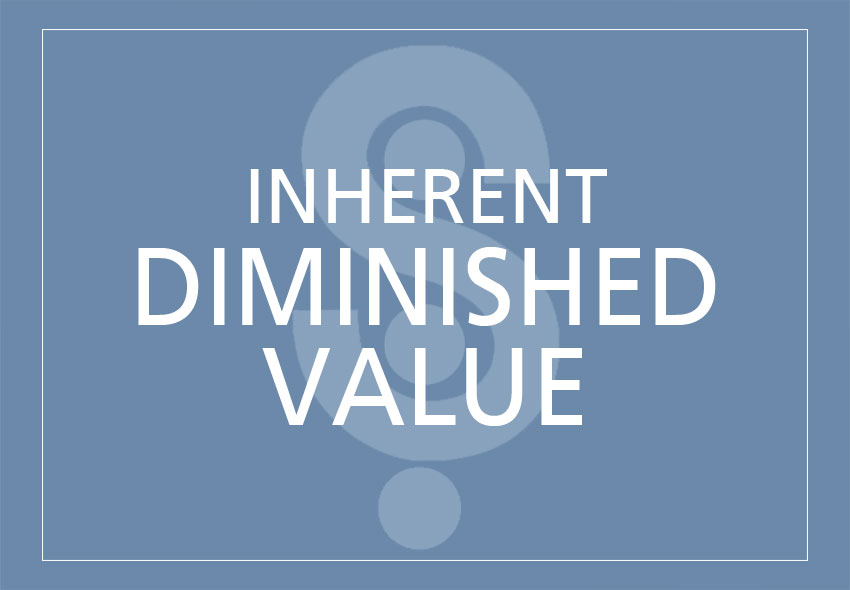 "Inherent Diminished Value" in motor vehicles is based upon a widespread belief whereas: "Once damaged, it will never be the same again". This stigma is attributed to the common instances over time whereas "inherent" appearance and operational deficiencies often times remain, even after proper and thorough repairs have been performed. The old saying, "Perception Becomes Reality" never rang so true as it does in the straight-forward, yet oftentimes misunderstood and controversial issue of Diminished Value.

Additionally, inherent diminution of value occurs at the precise time of the loss and sustaining the resultant damages. The true measure of a damaged vehicle's inherent loss in value can be measured as the difference in the value of the property before the loss to that after the loss, prior to or after repair.

Repair activities (i.e. repair, replacement of parts, refinishing etc.) merely aid in the recovery of a vehicle's appearance, function and value, relative to the quality and thoroughness of the performed repair.

Inherent loss or diminution in value is real and continues to exist simply because, for the most part, no reasonable and prudent buyer is willing to pay the same price for a vehicle with a history of damages as they would for one never having been damaged. Many offer discounts for scratches and dents on appliances, electronics and dented cans of beans, why then would the value of a once damaged motor vehicle not be negatively affected?

"Inherent Diminished Value" is based on public awareness that even if a damaged vehicle is repaired to the best of human ability, it will still exhibit remaining deficiencies and inconsistencies from the pre-loss condition of the vehicle.

These deficiencies include, but are not limited to:

· Weaker structural components that appear cosmetically sound

· Impossible to duplicate factory seams, sealers, and finishes

· Telltale signs of repair, such as paint missing off the heads of bolts etc.

· The unavailability of some factory decals, and markings (e.g. VIN labels)

· Undiscovered kinetic damage throughout the vehicle

· The increased likelihood of a mechanical failure due to direct and/or kinetic damage

· The effect that the repair will have on the future deployment of the SRS (air-bag) systems

· The unfeasibility of duplicating immersion and/or robotic applied rust-proofing techniques

· The loss of factory warrantees and eligibility of Certified Pre-Owned (CPO) vehicle warranty programs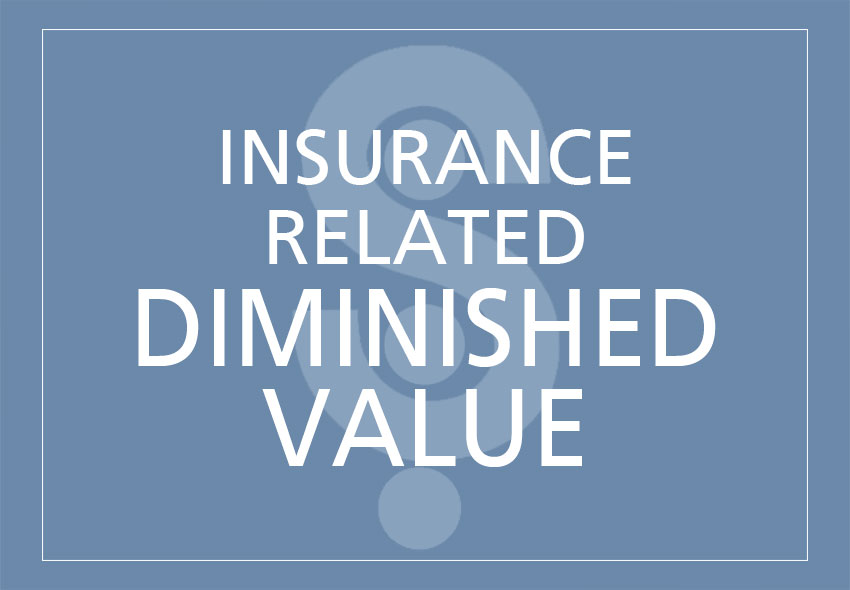 "Insurance Related Diminished Value" is based upon and resultant from remaining flaws, defects, and damage, which, through their involvement, the insurer had failed or neglected to fully and/or properly address.

Several examples of Insurance Related Diminished Value causing issues are as follows:

· The call and employment of inferior replacement parts

· Mismatched paint finish (e.g. whereas no consideration for paint matching activities were provided for)

· Remaining repair related residue, dirt, etc.

· The lack of replacement decals, labels and markings (i.e. belt routing)

· Overlooked or disregarded kinetic damage throughout the vehicle

· Overlooked or disregarded mechanical damages.

· Overlooked or disregarded safety issues (i.e. inspection-testing of belts, SRS systems etc.

· No allowance for application of factory sealers, sound deadening, rust proofing etc.

When an insurer negotiates the settlement of an automobile damage claim they will typically provide an estimate of repair which outlines the specific procedures, parts, and materials of which they are willing to provide for to the claimant or insured. One of the following entities will generate this itemized listing of insurer-authorized repairs:

· An "in-house" appraiser, who is hired as a full time employee of the insurer, then trained to assess collision damage in accordance with the company's policies and procedures.

· An "independent" appraiser who is hired as a subcontractor to assess the damage on behalf of the insurer and does so based upon the insurer's mandates and/or guidelines.

· An employee of a "Direct Repair Program" (a.k.a. DRP) body shop, who agrees to prepare the repair estimates using the guidelines (parts, labor/material rates etc.) established by the insurer in exchange for the insurer's direct referral of customers.

In some instances, the insurer will offer to pay based on the lowest of three estimates.

This may cause the level of compensation to be based upon the estimator with the least experience, inspecting the vehicle for the shortest period of time, using the poorest repair techniques, and/or overlooking the most damage. Additionally, there are those less scrupulous repairers who may intentionally underbid the repair to "seize the keys" only to submit a supplement for additional costs during the actual performance of repairs.

Auto Damage Experts' appraisers are trained and experienced in providing accurate and comprehensive damage and repair assessments, providing for the necessary and recommended processes and procedures.

The employment of parts and materials, as needed to restore a damaged vehicle to its pre-loss condition in safety, function, appearance, and value to the best of human ability, has proven time and again to reduce claims for Diminished Value and other associated liabilities including, among others, costly re-repairs and avoidable 'loss of use'. Let us handle your proper damage assessment.

CONTACT US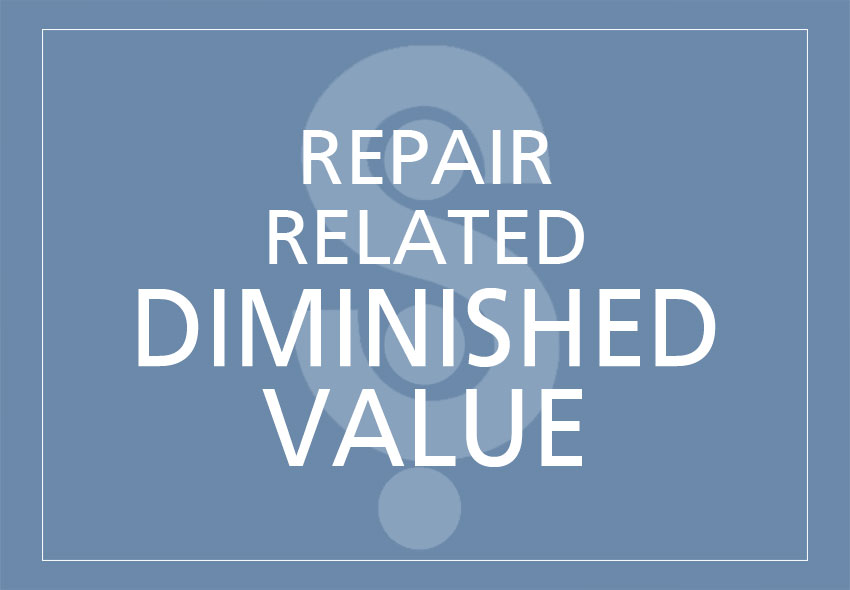 "Repair Related Diminished Value" is based primarily upon remaining flaws and defects resulting from improper and/or insufficient repairs for which the repairer had agreed and provided consideration to complete in a workmanlike manner. Poorly performed repairs would cause the vehicle to be valued less than if it had been properly and thoroughly repaired.

A few examples of such repair related flaws and defects are as follows:

· Poor structural, and/or cosmetic welds

· Frame/structural repair listed on the insurance estimate, but not completed properly and/or thoroughly

· Telltale signs of repair, wavy body work, sand scratches, paint overspray etc.

· Damage and/or removal of irreplaceable factory decals, and markings

· Undiscovered, overlooked or disregarded kinetic damage

· Undiscovered, overlooked or disregarded mechanical/electrical damages.

· Undiscovered, overlooked or disregarded damages/testing SRS systems.

· The failure of duplicating factory appearing sealers, sound deadening, rust proofing etc.

· Remaining flaws (paint-runs) and defects (dirt, etc.) in applied finishes

· Mismatched color after "tinting" and "blending" processes were provided for

· Sanding scratches on moldings, glass, and trim

Many average consumers are perfectly capable of finding such remaining damage and/or repair related flaws and defects, as well as residual indicators as may be found in a high-quality repair. In many instances, only the trained eye of professionals, experienced in the repair, purchase and/or sale of motor vehicles may find such remaining flaws and defects.

Frequently Asked Questions